KUNG FU KARAOKE – FRIDAY 20TH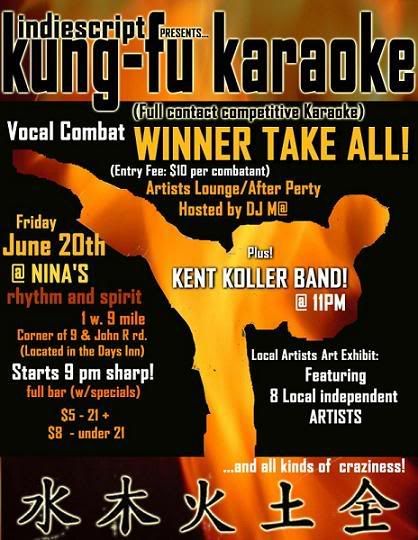 TOMORROW NIGHT … FRIDAY THE 20th – KUNG FU KARAOKE – Winner take all!
9 and John R.
(1 W. 9 Mile Hazel Park 48030 @ Ninas inside the Days Hotel!)
Hosted by The one and only…Millionaire!
Kung Fu Karaoke starts at 9
it works like this… we pull two names out of a hat… they go head to head giving the best performances possible… skill, attitude and showmanship… all are taken into account… so it really doesn't matter if you can sing… just have a kick ass time…
suppose it is you and I going into the final round…
I pick two songs… one for me to sing and one for you to sing…
you do the same thing… one for you and one for me… winner is selected by the audience. In case of a draw… Millionaire picks the final song for a match of sudden death …
Winner takes all… if ten people have the courage to enter the ring… winner gets $100. if 30 people…. that's $300…
Second place wins weekend accommodations at the Hotel and dinner for two at Ninas Restaurant.
Actual Ving Tsun Kung Fu demonstration at 11: Kent Koller Band takes the stage at quarter after: Final rounds of karaoke combat starts 'round midnight: Also check the Artists exhibitions featuring 8 Local independent artists: ART FOR SALE
Plus, on the low….
DJ M@ will be hosting the artist lounge, smooth after party from 12-4 am…
Come sing a song and get ridiculous.